Manage your Examinations ONLINE
Question paper generator for TEACHERS.
Conduct examinations as usual or using our online examination system.
Take practice tests and do homeworks online.
View the status in real time and understand the weak areas.
Plan remedial actions to improve the learning levels.
Why burn the midnight oil to make question papers?
EASY QUESTION PAPER GENERATOR FOR TEACHERS
Make your own question papers online in 10-15 minutes with a blueprint.
Decide the difficulty levels of questions.(Set easy, medium and difficult percentages)
Choose the percentage of questions from text book, non textbook or previous years.
Twelve different types of questions to choose from.(Objective as well as subjective)
Generate question papers automatically or select questions on your own.
Edit the existing questions or add your own questions if required.
Generate the final question paper as well as a teacher copy with solutions.
Tests can be conducted manually or in online mode.(no compulsion to take online mode)
Relieve the stress of taking exams!
TAKE PRACTICE TESTS OR EXAMS ONLINE.
Take practice tests and learn online with correct solutions.
Do homeworks and assignments at your convenience.
Prepare for competitive Exams or take exams assigned by teachers.
Set your own difficulty levels and test your understanding level.
Identify your weak areas and do more practice in them.
Discuss and share your problems and solutions with online peers.
Take objective online tests with instant reports or attend subjective questions with solutions.
Take subjective exams with writing pads and get them evaluated online.(upcoming)
Types of Questions and Reports...
Twelve types of questions to choose from
(i)Multiple Choice, (ii) Fill in the Blanks, (iii) True and False
(iv) Very Short Answer, (v) Short Answer
(vi) Match the Following (vii) Reference to Context
(viii) Assertion and Reasoning (ix) Draw and Label
(x) Long Answer (xi) Very Long Answer / Essay
(xii) Reading / Writing / Case-Study / Source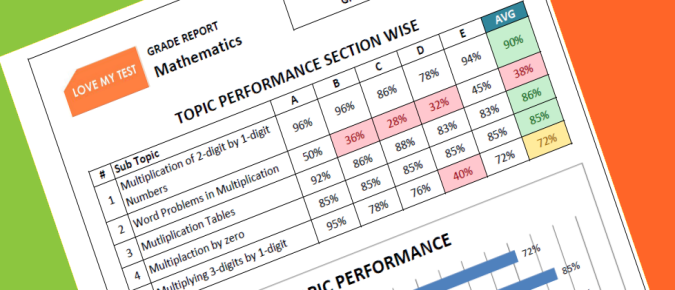 Reports for Teachers and Principals
Student wise performance reports.
Common wrong answer reports at class level for remediation.
Class/section wise scoring and perfromance report for every test.
Section wise summary of all tests conducted in a cycle.
Summary of test results and progresss for every class/section YTD.
School performance reports with class, section and student level views.
How lovemytest can help you?
Teachers can generate quality question papers easily with set parameters.
Teachers can assign practice tests and homeworks to students online.
Students can do assigned tests and homeworks online from any where.
Students take practice tests or attend subjective questions with solutions online.
School examinations can be conducted manually as usual or in online or OMR mode.
Teachers and school management can track the student progress online.
Use our lesson planning system to plan and track teacher actvities week wise.
Get limited period free access with free credits to all subscribers.
Exam Conduction OMR Mode
Exams can also be conducted using OMR sheets.
Large Number of students can take the test at one go.
OMR scanning setup will be done by LMT team at actual costs.
Processing can be done by the schools themselves and scoring sheets generated instantly.
Two different OMR formats with upto 60 questions or upto 180 Questions to choose from.
Teacher copy with correct answers provided for all types of tests including OMR.
Subjective test scores can be added to get combined performance reports.
Solutions:
Question Paper Generator for Teachers
Online Examination Platform for Students, Teachers and Schools
OMR based testing system for Schools
Lesson planning system for Schools
Question bank for CBSE curriculum
Digital subjective Examinations (upcoming)
Contact Us:
Emai:info@lovemytest.com
Phone: +91-7829 151 919, +91-9606 581 638, +91-9558 461 179
---
Ⓒ Copyright 2019, LoveMyTest.com | Educational resources by edureso.com | Powered by Tecknowscope Solutions LLP (
tecknowscope.com
)